Sony Bravia KDL46W3000 LCD Monitor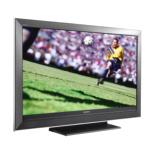 While we bought the KDL46W3000 primarily for use as a large-screen computer monitor, we've connected a Blu-Ray player to it on several occasions as well. The results were breathtaking.
Shopping for a flat-panel monitor is brutal. There are oceans of them, and swimming shark-like within them, packs of consumer-electronics sales-trolls who all seem to be on commission. Some of the monitors we looked at were little better than digital sand-paintings.

There turned out to be several important considerations in choosing a flat-panel monitor, to wit:
Plasma screens look marginally better than LCD screens, but they cost more, weigh more, consume more power and are, we were given to understand, grotesquely fragile.
The update speed of a flat panel monitor is extremely important. The critical speed is eight milliseconds – if it takes a monitor longer than eight milliseconds to update its screen, you'll see visible ghost images behind moving objects.
The contrast ratio of a flat-panel monitor is equally important – a high contrast ratio will allow your monitor to present bright whites and rich, dark blacks, with a full palette of colors between them.
The KDL46W3000 has a true contrast ratio of 1800:1, which is reasonable if not exceptional. It has a dynamic contrast ratio of 65,000:1, which is somewhat meaningless – this latter value reflects the contrast between a wholly black screen and a wholly white screen, rather than contrast between a white point and a black point on the same screen. It has an eight millisecond refresh rate.
One curious aspect of the KDL46W3000's dynamic contrast ratio is that it tries to cheat when it thinks it's displaying a largely black screen by dimming its display panel to produce the illusion of richer black areas. It can become confused if the amount of black changes rapidly, as it does when the monitor displays white movie credits against a black background. In this case, the screen can shift brightness levels periodically. This never seems to happen during actual program content, and as such it's more of a curiosity than a genuine problem.
With a native resolution of 1920 by 1080 pixels, the KDL46W3000 will support all the current high-definition video formats without any cheating.
Unlike lesser monitors, the KDL46W3000 just oozes with input and output jacks, including three composite inputs, two coaxial inputs, two component video inputs, three HDMI inputs, one S-Video input, one VGA computer input, one PC audio input and a headphone jack.
The tiny speakers built into the cabinet of the KDL46W3000 produced remarkably good sound for what they are. You'd probably want to use this system with an external amplifier and speakers larger than an orange, of course.
The on-screen menus and controls of the KDL46W3000 are remarkably well thought-out and intuitive, and extremely attractive. The blocky green text of ancient TVs is history… everything on screen looks like it belongs in a high-end web page.
The remote is large and difficult to misplace. It will control not only the monitor, but your choice of players and receivers. Perhaps not surprisingly, it includes a channel to drive a Sony Blu-Ray player.
The opaline clarity of the KDL46W3000's screen is a bit cruel to video content of ancient lineage or diminutive budget – old DVDs really show their age.
In considering the KDL46W3000, it's worth noting that it produces much better pictures if it's connected to a really nice disc player, and this almost certainly means one of Sony's Blu-Ray players. We tried it with a low-end DVD player and saw considerable image smearing, ghosts in films that hitherto had exhibited no supernatural content and generally bad video. The same DVDs played through a BDPS300 Blue-Ray player were impeccable.
If you're going to spring for this monitor, make sure the budget will support a state-of-the-art player to drive it.
While Sony offers a high-end monitor comparable to the KDL46W3000 for a great deal more money, this one offers a good balance between price and performance. It's quick, it features uncompromising picture quality and lots of inputs… and it doesn't require a three-week seminar to successfully operate it.
Buy one and you won't rise from your couch for at least a week.
June 30th, 2008 in
Computer
,
Electronics
,
Home
,
Office
,
Television
,
Toys
,
Video
| tags:
bravia
,
kdl46w3000
,
monitor
,
sony