Mahindra eMax 22 4WD HST Compact Tractor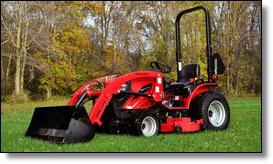 This machine is almost too much fun to be legal, and it can do all sorts of really useful things while it's making itself enjoyable. It's well built, expertly engineered and, with a rich palette of available implements, it's capable of becoming just about anything that one could ask of a small tractor.
It also has a name that virtually no one in North America has heard of, and as such, it seems somewhat exotic and sophisticated. I like to think of it as the Jaguar of heavy machinery.
The Mahindra eMax 22 4WD HST is, in fact, a product of The Mahindra Group, which turns out to make more tractors than any other manufacturer on the planet. It's probably one of the smallest machines they build, but sometimes small is cool.
As its name likely suggests, Mahindra's machines hail from India. Actually, this one hails from several places… all of them with storied histories in building machinery with serious grunt.
Red
Small tractors are profoundly useful if you live outside town, and most of your neighbors are bears. Most of ours certainly are. Aside from being grotesquely expensive, full-size heavy machinery is unquestionably overkill for keeping a driveway plowed, doing a bit of landscaping and hauling firewood out of the bush. A small tractor rocks for these sorts of tasks.
The Mahindra eMax 22 HST reflects a singularly useful combination of features. It is, first of all, really small – it can reside in a conventional automobile garage and be protected from the elements to ensure it a long life and easy starting. It has a 22-horsepower diesel engine, which is arguably something of a toy by full-size tractor standards, but it provides this machine with the most amazing muscle imaginable. It includes a continuously-variable hydrostatic transmission, switchable four-wheel drive and a lockable rear differential to extricate it from slippery situations. It's dead easy to drive, even if the closest you've hitherto come to a tractor started with a rope.
In many regards, it behaves like a traditional farm tractor… except that it isn't made of rust held together with fading green paint and it doesn't spend its every waking moment devising ways to kill its operator.
We got our eMax with a front loader. We also sprung for really aggressive ag tires, rather than smooth turf tires, as would be called for on a tractor designed to traverse lawns.
The first task our eMax 22 attended to was moving a fairly huge pile of compost and debris, which had been snarking at us for several years. That which would have occupied a week with a wheelbarrow, a shovel and an extra-large family-size bottle of aspirin for after took the tractor a little over two hours. It was genuinely enjoyable.
Being small and maneuverable, the eMax 22 can evince a degree of precision that just doesn't occur to heavier tractors. It proved remarkably easy to persuade all but the last few pebbles and twigs of our compost heap into the tractor's loader without any recourse to shovels and manual labor.
The hydraulics that run the eMax 22's loader are a treat. They're controlled by a single lever – up and down positions the loader and side to side raises and lowers the bucket. With a few minutes practice, you could separate the angels dancing upon the head of a pin with the loader. Realistically, you'd smash them all flat in the process, of course, but it would be done with consummate skill.
The cup holder was a nice touch, it being an unseasonably hot afternoon when the compost heap met its doom.
The driving controls of the eMax 22 are more or less car-like – it has a conventional steering wheel, for example. It also has an accelerator – actually, it has two of them, one each for forward and reverse. While this will take new users a while to get used to, it proves to be singularly intuitive. You can decide which direction to drive in with your foot, steer with your left hand and run the hydraulics that control whatever implement the tractor is pushing with your right hand… all without ever having to let go of the controls to operate a shifter.
The eMax 22 lacks a USB port and a stereo – because these things would be really silly on a tractor – but it has pretty much one of everything else. There are turn signals and a horn, should you have cause to take it out for a spin, a brutal roll bar that folds down so it will get along with a garage door, a seat belt that I definitely should be using and to date never have and proper headlights for digging after dark. The seat has an orange reflective triangle on its back, and there are switchable emergency flashers.
It also has cruise control – no foolin'. I suspect that this would be of more use if we had several acres of fields to harrow, for example. I tried it up and down the driveway a few times… it does what it says on the box.
Despite its compact disposition, the eMax 22 enjoys a rear power take-off and hydraulics to support a backhoe, a middle power take-off to connect to a drive-over mower deck and front hydraulic ports for a front loader or a front-mounted snowblower.
Additional optional attachments include a number of towable cutters, scrapers, a rake, a hay-bale spear that could also be used for stabbing dragons, a tiller, a disk harrow, a post hole digger and a palette fork. Be sure to consult your local game laws if you decide to go out for dragons with this machine.
The accessories available for the eMax 22 are one of the things that differentiates it from its competitors. John Deere, for example, offers its eighteen-horsepower 1025R sub-compact tractor at a price that's somewhat comparable to the bill for an eMax 22, but the 1025R can't support most of the implements available for the Mahindra small tractors. The John Deere machine that reasonably compares to the eMax 22 costs about twice as much.
Built to Last
The eMax 22 is driven by a Daedong diesel engine, from South Korea. Daedong has been building engines since 1947, and they're seriously good at it. They market their own compact tractors under the name Kioti. The loader and much of the chassis of the eMax 22 are also Korean – they were made by Tong Yang Moolsan, which has been making tractors and parts thereof since 1951.
The frame of the eMax 22 is forged from robust cast iron. The body panels, however, are plastic. They're light, easy to remove for servicing without recourse to a lot of hand tools, and they'll never rust. Actually, most of the things that traditionally rust on tractors are made of robust plastic in the eMax 22, or of other non-corroding substances.
We were surprised how reliably the eMax 22 started, even in brutally cold weather. Its engine includes glow plugs to pre-heat its firing chambers, and we used conditioned fuel, but it's still remarkably quick to wake up.
One minor issue in the design of the eMax 22 is the location of its gas cap – it resides right in the middle of the engine hood. If you'll be fuelling the machine using a jerry can, you'll need to levitate the can above the tractor and hold it in place while it disgorges its contents, all preferably without spilling any diesel on the tractor. I found this to be in keeping with the perception of the eMax 22 as something of a Jaguar among heavy machinery – mid-1980s Jaguars had much the same problem, with their fuel caps residing above their rear fenders. Our eMax 22 benefited from an innovation inspired by one of those ancient Jags – we made it a fuel bib, a sheet of plastic with a hole in the center just large enough to reveal the gas cap, such that any spills don't get on the machine.
Storm Front
Our eMax 22 arrived several months prior to the great blizzard of 2014 that turned the top half of North America into an extended polar ice cap for about a week in the middle of November. The tractor's timing was fortuitous – the snow blower for our forty-year-old John Deere tractor had cracked a sprocket, and a replacement part wasn't likely to show up any time soon.
While Mahindra offers a snow blower for the eMax 22, we decided to try clearing the driveway with the loader, at least for the first season. I hasten to add that our driveway is several hundred feet long, snaking through a considerable growth of forest, and it isn't something to be trifled with.
There would have been some notable drawbacks to adding a snow blower to our new tractor:
Big bucks: At about $4500 plus two levels of sales tax – plus some trucking costs to get it installed, plus two levels of sales tax on that – the Mahindra snow blower attachment would have represented serious credit card outrage. Our finances were still echoing with the original hit for the tractor itself.
Small garage: The garage that defends our phalanx of machinery from the elements was originally built to house two sports cars, and as such it isn't as capacious as we might have wished. Finding room for the snow blower during the summer months – and the temporarily orphaned loader while the blower was in ascendance – would have been a challenge.
Snow blowers are evil: Tractor-mounted snow blowers are excellent implements when they're working properly, but they don't remain in that condition without a significant amount of effort and profanity. They're fairly maintenance-intensive, prone to self-destruction if something other than snow sneaks into their workings and manifestly unpleasant to repair when it's twenty below.
We were mildly shocked at how capable the eMax 22 tractor is in the snow, especially considering that it was built in a country most of which is way warmer than ours. This probably deserves some qualification – it's all but helpless in the snow if it's running in two-wheel drive mode. With its four-wheel drive engaged, it feels like it could climb Everest and annoy the Sherpas.
I suspect that we could have cleared the driveway more efficaciously with the snow-blower attachment for the eMax 22, but it did admirably with just its loader. Admittedly, this was predicated on our having lots of places to leave the snow it disturbed – the loader would likely prove to be more of an issue in tighter quarters.
It's also worth noting that if you have a gravel driveway – as do we – some practice with the exact altitude of the loader will be called for, lest you discover yourself to be plowing lots of granite.
The ag tires we'd chosen for the eMax 22 grabbed the landscape with unspeakable tenacity, even when said landscape would have been a suitable habitat for polar bears. By comparison, our aging John Deere tractor – which, in its defense, primarily sees daylight only during the summer months – requires a set of chains on its rear wheels to get anywhere in the snow. Installing chains on the Deere is second only to levering its snow blower attachment into place for abject horror and enraged muscles.
Mahindra offers a clear plastic tent that can be affixed over the driver's seat of the eMax 22, should the thought of piloting the machine in inclement weather unsettle you. We didn't get one of these, as the elements would have regarded it as a sign of weakness.
Despite its traversing some really treacherous, glacier-like terrain, the eMax 22 never became even slightly stuck in the snow. Its lockable rear differential – there's a foot pedal to engage it, should you have been wondering what to do with that spare foot – got it out of anything.
Manual Labor
The eMax 22 does suffer from one arguable flaw – it comes with an owner's manual that's some distance removed from the general excellence of the machine itself. Terse and dusted with errors, omissions and things that are flat-out incomprehensible, the manual for our new tractor constituted its only genuine disappointment.
In fairness, the eMax 22's documentation is probably adequate if you plan to drive it and have the dealer you bought it from collect it every fifty hours to perform all its routine service. The manual deals with the basic operation of the machine without too many issues. Should you have designs on performing its periodic service yourself – and chances are that if you need a machine like this, you have the skills to change its oil – the manual is likely to get you into some trouble.
Among its varied concerns are two tables listing the correct viscosity of oil to use in the tractor's engine – which don't appear to agree with each other – and specifications for the wheel bolt torque that are way too tight, and likely to shear the heads off the bolts in question if they're followed. There's a wiring diagram at the back of the manual that appears to have been rendered on a really low-end laser printer, leaving it entirely illegible.
The dealer we bought the tractor from succeeded in tracking down a service manual for the eMax 22… which is currently out for stock, and will cost $49.99 – plus the aforementioned two levels of sales tax – when it's back in stock in a few months. I regard this as a solution of sorts, but I can't help thinking that a better solution would have been a second trip through the word processor for the manual that shipped with the machine.
One of the more annoying aspects of the manual for the eMax 22 is its predecessors. While we were researching small tractors, we downloaded a PDF file of the manual for the 2011 model of this tractor. Lucid, complete and well written, it illustrates that Mahindra can write exemplary documentation… they just didn't for the current version of this machine. Sadly, the 2011 eMax 22 was based on a different engine – the manuals aren't interchangeable.
Gear Up
Its documentation issues not withstanding, the eMax 22 is unquestionably one of the best small tractors to be had. Ours has proven itself disposed to ripping through several seasons, and an impressive palette of tasks. I can't decide if I'm more impressed with its range of available attachments or its lack of a need for any of them to do what's been asked of it so far.
Also… it's red, which matches our remaining sports car. Heavy machinery should always endeavor to color-coordinate.
Our eMax 22 came from Richards Equipment outside Barrie, Ontario. They had exactly the machine we were looking for, knew everything about it short of the hair color of the engineer who designed it and sold it to us at a remarkably competitive price. Ask for Bob Black.