Washburn Rover Travel Guitar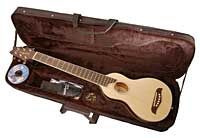 One of the inescapable concerns inherent in guitars is that they're relatively large objects, and encased in enough wood or polyethylene to survive an airport's baggage handling system, they become quite a lot larger still. If you find yourself traveling under circumstances which don't avail you of unlimited space for your belongings, you might find yourself compelled to leave your guitar behind.

Unless you'll be traveling by camel or kayak, the Washburn Rover travel guitar is a brilliant solution to the issue of the space occupied by a guitar, as it occupies very little of it. This may make whomever you're traveling with a bit disappointed if he or she was hoping to use space concerns as a reason to compel you to leave your guitar in its closet. You'll need to work this one out for yourself.
The Rover is a bit unusual to look at, but it fits in a case that's under three feet long. A custom case is included with the instrument. The Rover's case will fit in most airplane overhead storage compartments, although it's still arguably a good idea to make sure the airline you're planning to fly with will let you put one there.
Despite its limited dimensions, the Rover has a full-size fretboard and scale. It requires a few minutes of practice to get comfortable holding it – its body is substantially smaller than that of a conventional acoustic. Once you find a way to keep it from slipping through your fingers, it's eminently playable.
The Rover has reasonable sound for a very small guitar – it plays with a slight twang, making it reminiscent of a banjo. It's also considerably quieter than a conventional acoustic guitar, which probably isn't a bad thing, especially if you'll be traveling in a group.
Washburn crafts some really superb acoustic instruments, and it's important to keep in mind that the Rover isn't one of them. Knocked together in China, it's reasonably well built as machine-made guitars go, but it's cheap and it's knows it. It might even be proud of it. It's price arguably reflects its perilous existence. If somebody parks a 747 on your Rover, you won't have to mortgage your dog to get a new one.
The Rover requires somewhat more work to set up than most guitars. To begin with, mine arrived with a set of somewhat economical strings that hardly did justice to the instrument. Two of them broke shortly after I initialy tuned up – I'd have replaced the factory strings even if they hadn't. The neck action of my Rover was fairly high, which called for some adjustment to render it playable. The Rover includes not only an allen key to adjust its neck, but bridge and tail shims, should you really want to perfect its action.
The machine heads that ship with the Rover are economical. I've heard of several people replacing them with better machines – mine proved reasonably workable.
Once it's been fitted with better strings, the Rover is surprisingly stable. Its sound isn't displeasing, although it leans somewhat more toward C&W than I might have wished.
Unlike the Martin Backpacker, perhaps the most commonly-encountered travel guitar, the Rover has a truss rod, allowing its neck action to be adjusted, and a hard case rather than a large sock to protect it from the vicissitudes of a mobile existence. I should also point out that mine came with a "how to play the guitar" DVD, which was a nice touch. One of the nieces or nephews will no doubt appreciate it.