Moroso 89560 Tire Pressure Gauge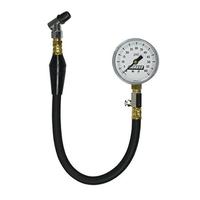 Keeping the tires of your vehicle correctly inflated will potentially save you some cash at your local gasso, save you still more cash when your tires last longer and possibly even save your life. Incorrectly-inflated tires don't handle as well as they should, especially in the sorts of extreme conditions that contribute to highway fatality statistics, and they can fail catastrophically.
All this having been said, keeping the tires of your vehicle correctly inflated might prove a bit tricky if you attempt to do so using the inexpensive tire pressure gauges available from big-box retailers. Costing about ten dollars and banged out in their countless thousands in China, low-end pressure gauges are often shockingly inconsistent. Their readings can vary considerably, finding themselves perturbed by temperature, pressure and even the number of times they've been used.
We actually came to fully appreciate the inherent funkiness of inexpensive tire gauges in an application having little to do with anything automotive. Maintaining a well-water pressure system also involves a tire gauge, and when it proved impossible to obtain the same reading on the pressure tank for two any days running, we began to suspect our pressure gauge rather than our plumbing.
Moroso Performance Products of Guilford, Connecticut makes a wealth of high-end automotive parts and tools to maintain and enhance your ride. Their best toys appear to be intended for car racing. This said, even performance cars that can achieve low earth orbit have tires, and as such, need them to be correctly pumped up. Moroso makes several exemplary tire gauges.
The Moroso 89560 tire gauge is everything that cheap gauges aren't. It's built like a tank; it's elegantly thought-out and intuitive to use; every gauge is hand-calibrated to an accuracy of two percent or better and it's large enough to read without the need of a scanning electron microscope.
More to the point, it appears destined stay accurate, ignoring the external temperature and a modest degree of abuse.
The Moroso 89560 gauge is decidedly quick to use. Unlike tire pressure gauges that include pointy bits to spill air from an overinflated tire, the Moroso gauge has an integral valve that falls conveniently under the thumb of whoever's holding the beast. You can over-inflate the tire in question by a few pounds, and then tap the valve until the pressure drops to the correct level.
The sixteen-inch hose between the air chuck and the gauge of the Moroso 89560 is long enough to obviate the need to get up close and personal with your tires. It's arguably worth noting that the hose is uncomfortably stiff when the gauge emerges from its packaging – it softens up with use.
We were able to verify the accuracy of our Moroso 89560 gauge over time by comparing it against a family heirloom of sorts – a mechanical stick-type tire gauge made in England, and dating back to the 1950s. The old gauge is impressively accurate, but only if it's maintained at a temperature of 20° centigrade. As such, it's not much use in the real world, but it did serve to confirm that the Moroso 89560 gauge flat out never lies.
For all its exemplary performance and god-like attributes, the Moroso 89560 and its cousins do embody a few catches you'll want to be aware of, to wit:
They're expensive – plan on something north of fifty dollars, depending on what you buy and where you shop. This said, one of these gauges is as nothing compared to a set of tires.
Moroso makes a range of tire pressure gauges with differing maximum pressures. Ideally, you should spring for the one that most closely matches the range of tire pressures you're likely to want to check. Keep in mind, however, that exceeding the pressure for one of these gauges even modestly will render it a permanent brick.
The Moroso 89560 gauge comes with a whole 90-day warranty, which is diaphanously thin. Admittedly, these things are sufficiently simple and sufficiently well-built as to make it unlikely that they'll fail any time soon.
Easily the best of the high-end tire pressure gauges we researched, the Moroso 89560 is well worth what it costs. The United States Department of Energy maintains that having your tires under-inflated will beat up your fuel economy by 0.3 prevent for each one PSI in all four tires. In rough numbers, if you spend $400 a month for fuel and your tires are five pounds under their recommended pressure, the Moroso gauge will pay for itself in under a year. I hasten to add that inaccuracies of five pounds or more turned out to be pretty common among the low-end Chinese tire gauges we used before this one arrived.
Our Moroso 89560 gauge came from Amazon, which offered this device in several pressure ranges. You can also buy it directly from Moroso's web page.