Targus Mobile Docking Station PA075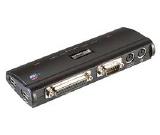 You're unlikely to need one of these, and even more unlikely to need one for the reason for which we bought a bunch of them, but this box was such a perfect solution to a seemingly insurmountable problem that we felt it deserved a mention.
The Targus Mobile Docking Station is intended to connect to the USB port of a laptop and provide it with a host of other ports it might not have started life with. Powered up and plugged, in, it will provide its host computer with a parallel printer port, an RS-232 serial port, two additional USB ports, an Ethernet port – that actually works really well, much to everyone's surprise – and conventional PS/2 mouse and keyboard ports.

Now, most laptops won't need any of this stuff, as contemporary printers, keyboards and mice come with USB interfaces, and you can only buy laptops without Ethernet jacks if you shop at really unfashionable garage sales.
The Targus Mobile Docking station is probably a handy little accessory for itinerate road warriors who might find themselves in unfamiliar territory confronted with dusty peripherals.
In fact, the Targus Mobile Docking station was lauded and drank to here for quite a different reason. Plugged into desktop computers, it allowed a number of Alchemy Mindworks employees who shall not be identified to continue to use their favorite ancient AT-style keyboards when we upgraded the computers to systems with USB keyboard interfaces.
We were all quite shocked that this worked, and worked perfectly.
A product of Targus Group International – which appears to be primarily a luggage manufacturer – the Targus Mobile Docking station has the shortest learning curve of any technological device more complex than a light bulb. Plug it into a USB port, attach its power supply and it's completely good to go – there's nothing to configure, program, identify or adjust. It does what it says on the box to a truly impressive degree.