Dewalt DC390B Cordless Circular Saw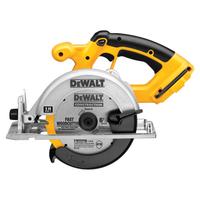 There's nothing so preposterous as having to transport a fifty pound generator with which to power a five pound electric saw. Trying to operate a traditional corded electric saw at the end of a few hundred feet of extension cord isn't much of an improvement – power tools draw a significant amount of current, and line loss is rarely their friend.
Despite a laudable degree of civilization and some impressive technology that would have seen our recent ancestors accusing many contemporary tradesmen of witchcraft, sometimes you just need to cut wood in places without plugs.
The Dewalt DC390B cordless circular saw is one of the most useful yellow battery powered tools yet devised. It's pretty much as vicious and nasty as its corded cousins, save that it's powered by a Dewalt eighteen-volt battery. Thus freed from the tyranny of an electrical outlet, it can trim fence rails, repair outbuildings and cut a few studs in those situations wherein it's just too much work to track down a suitable extension cord.
In addition to being eminently portable, the DC390B addresses the other conspicuous failing of traditional circular hand saws, to wit, their ongoing propensity for sawing through their own power cords. I'm pleased to say that I've never actually had a powered saw do so under my watch, but the constant necessity of keeping an eye on the wire while ripping away with a powered saw is a nuisance.
I have to assume that having one of these things nail its own cord represents an electrical cataclysm of considerable moment.
Like all the Dewalt cordless tools we own, the DC390B is robustly constructed – albeit in China – and impressively engineered. It's arguably worth mentioning that as it comes out of its box, it has the poise and balance of an obese walrus, but once it's fitted with a battery pack – the weight of which perfectly counterbalances the weight of the saw itself – it's breathtakingly ergonomic and effortless to use.
The DC390B comes with a six-and-half inch carbide-tipped general-purpose blade. You can use other blades of suitable dimensions for more specialized cuts. Attaching the blade to the saw is agreeably painless – the only tool required is a large allen key, which lives in the handle of the device. This, and snapping in a battery, comprise the entire setup procedure for the machine.
The motor that lurks within the DC390B will spin its blade at 3700 RPM, and is surprisingly brutal for something that runs on batteries. The saw can get through a fir two-by-four just as quickly as a corded saw would – its maximum cut depth is 2 1/4 inches. It will rip plywood, perform angled cuts and even bisect trim and baseboards when no one is looking. It's a treasure beyond price for cutting through existing structure in close quarters, where it proves to be slightly smaller and way more maneuverable than its plugged-in ancestors.
The only limitation of the DC390B – if you insist of regarding it as such – is its battery life. It will suck a fully-charged battery dry fairly quickly. The exact magnitude of "quickly" varies enormously with what the saw is called upon to attack – plan on something on the order of one to two dozen softwood two-by-fours per battery, as a rough estimate.
If you intend to use this saw for extensive construction, you'll likely either want to have several batteries on charge or a large cooler of beer to be consumed while you wait for the little red lights to stop flashing. I'd lean toward the latter.
I'm not sure I'd want to try framing an entire house with one of these things, but if you're building a deck or finally getting around to a few repairs, it's indispensable.
The Dewalt DC390B is available as a kit with a charger and a battery pack, or as a "bare tool," consisting of a cardboard box containing nothing but the saw and its attendant blade. If you currently own a number of Dewalt eighteen-volt cordless tools, you probably won't need another charger and a battery – the latter configuration is considerably cheaper.
Convenient, powerful and rugged, the DC390B qualifies as one of my favorite bits of destructive technology. It acquits itself masterfully, and a lot of stuff that would probably still be on my list of things to get around to have been completed under its auspices. I wish I'd bought one years ago.