Downton Abbey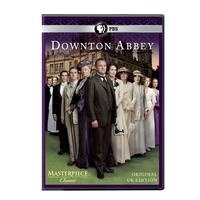 An historical costume drama for the ages, Downton Abbey is more fun than would have been respectable during the period in which it's set. The locale for the tale – and perhaps its most ubiquitous silent character – is the Edwardian estate of Downton, complete with a sprawling house, innumerable servants, a titled family and enough intrigue, gossip and brooding scandal to measure on the Richter scale.
Fusing elements of Upstairs Downstairs and Gosford Park – with which Downton Abbey shares its writer, Julian Fellowes – the series weaves a tangle of subplots and quirky, irascible characters. Attempting to summarize its story lines would be both an undertaking of dubious efficacy and something of a spoiler. You'd pretty much have to watch this one to properly appreciate it.
The sets for Downton Abbey are superbly tactile and convincing. The house itself is Highclere Castle in Hampshire, the ancestral home of the Earls of Carnarvon. Most of the interiors were shot on a sound stage at Ealing Studios, stately homes having done away with the butler's pantry some time ago, as a rule.
The actors who breath life into Downton Abbey have been cast with brilliant insight and nuance, and they craft a flawless, compelling performance from the first opening credit.
The only unfortunate aspect of Downton Abbey was its introduction to the colonies. In its original release in the UK, it consisted of seven episodes. Upon crossing the Atlantic and washing up upon the shores of Boston, it was edited by PBS into four programs on Masterpiece Theater, running for about an hour and a half each. The transmutation wasn't wholly kind to it – a few scenes appear to have remained on the cutting-room floor, and the hitherto fluid plots and story lines became a bit erratic and difficult to follow at times.
The DVD release of the UK edition is easily worth the twenty dollars it will beat up your credit card for even if you caught the Masterpiece Theater broadcast, and doubly so if you didn't.
Try not to watch it all in a single sitting.