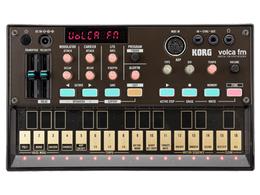 The Yamaha DX7 was a remarkable instrument for its day, its day being some time in 1983. Unlike other keyboard synthesizers of that period, it generated sounds not by plugging oscillators and filters together, but by actual algorithmic digital synthesis, or "FM synthesis." The result was the ability to create an almost inexhaustible palette of real and imaginary instruments, rich, textured music and enough special effects to frighten an entire alien invasion.
The DX7 was not without its downsides. It required a lot of head banging, long words and complicated math to fully master; it was expensive, huge and heavy; its keyboard was plastic and a bit nasty and its bronze-age digital to analog converters were fairly noisy and gave everything it played a vaguely electronic edge.
Still, it totally rocked back then.
March 21st, 2018 in
Jazz
,
Music
| tags:
dx7
,
FM
,
FM synthesis
,
Jazz
,
korg
,
Music
,
retro
,
voice
,
Voice Manager
,
Volca FM
|
No Comments